Summary
CAT's Q1 was weak – little surprise to anyone, as shown by the relatively modest sell-off.
There's an argument that a bottom is near, if only because O&G and mining revenues have declined so much that further impacts will be relatively modest.
But it also looks like peak earnings, in the environment going forward, are well below the $8+ reached earlier this decade – and that makes $78 look expensive.
There may be some yield-chasing here, with CAT bottoming at a 5% yield and topping out at 4%; that sets a range of $62-$77.
Aggressive traders might look to a near-term short; long-term investors would be advised to wait for a better entry point.
I wrote in early February that I thought Caterpillar (NYSE:CAT) lookedreasonably attractive at $62, though I didn't see a catalyst for rushing into the stock at those levels. Looking at the chart, one might think my article was the catalyst: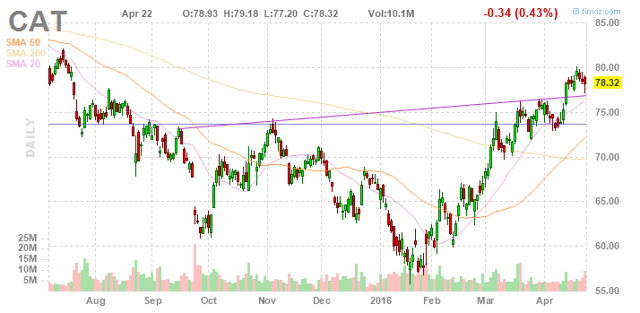 source: finviz.com
I'm joking, of course; CAT seems to have benefited from one of those contrarian runs that happen when a stock has just no good news at all, and the reversal of broad market sentiment coming out of February has helped as well. (Anecdotally, the market also seems to have an extraordinary amount of patience for and interest in turnaround plays at the moment, something which makes me a bit concerned about current valuations.)
I really think there's going to be a reversal after Q1 earnings on Thursday. The report itself wasn't terribly disappointing – or surprising. CAT did pull down full-year guidance for sales and earnings, but the Street, at least, and many investors likely didn't believe the original projections anyway. CAT management admitted that they didn't do a good enough job of guiding to some of the minor but quarter-specific headwinds in Q1, and the key longer-term trends – most notably weakness in mining and oil and gas – have showed little change.
But the oil and gas bust appears to be spilling over into CAT's locomotive business, and the longer the current weakness lasts – and the deeper it goes – the more of an outlier CAT's early-decade earnings appear. What's happening at Caterpillar literally is unprecedented: the company, founded just years before the Great Depression, never has seen four straight years of revenue declines, something which almost certainly will occur between 2013 and 2016. And this isn't a run-of-the-mill cyclical downturn that Caterpillar has seen from time to time in its 91-year history: the major driver isn't cyclicality, but the popping of bubbles in mining and shale oil investment that drove huge demand for Caterpillar machines.
That's a big difference; a cyclical downturn means that earnings multiples should expand (in theory, anyway). But if 2011/2012 figures were the outliers they appear – if O&G and Mining investment isn't returning anywhere near those levels for years – then the stock doesn't necessarily deserve trough multiples. And future earnings expectations shouldn't incorporate a potential for a rebound to those peaks (any more than homebuilder stocks should be valued based on 2005-2006 levels).
So my concern with CAT isn't necessarily whether or not the company is at a bottom. I generally think the Street is in the right neighborhood in seeing another (more modest) revenue decline in 2017, and on the Q1 conference call, CAT management repeatedly tried to tamp down expectations for a back-half recovery. My concern is what the next peak will look like, and at $78 I think that peak already is priced in.
O&G and Mining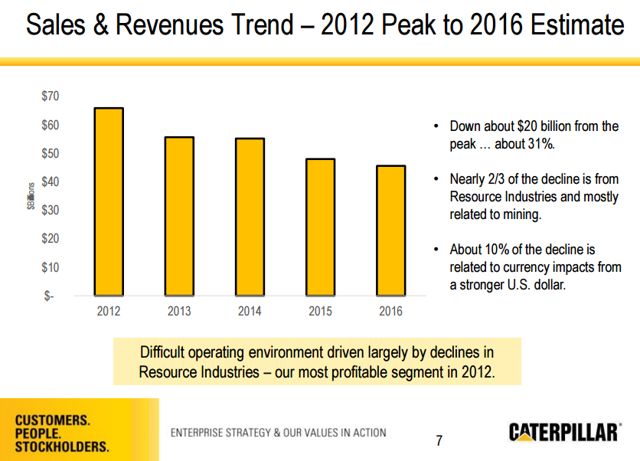 source: CAT Q3 presentation
Revenue in the Resources Industries segment went from $22.3 billion in 2012 to less than $8 billion in 2015. CAT actually modestly increased its projections for yet another decline this year, with VP Mike DeWalt saying previous estimates of a 15-20% drop would be "maybe moved up a little."
Oil and Gas – directly and indirectly – appears to have driven much of the rest of recent declines. Energy & Transportation revenues were down 17% last year, per the 10-K; they were guided down 10-15% this year, but DeWalt said on the Q4 call that the decrease would move toward the top of that range (i.e., 15%).
As far as mining goes, Caterpillar management has argued that the replacement cycle is near or even beyond its limit, as cash-strapped miners look to cut spend in a low-commodity-cost environment. DeWalt admitted in his prepared remarks that a recent increase in commodity prices was helpful, but "certainly not enough," one in a series of comments from CAT executives that appeared to emphasize that a recovery isn't around the corner. I, for one, have wondered whether the most recent commodity bust has permanently changed the attitudes toward mining stocks from equity and debt investors. That's not to say there won't be another boom someday (there's alwaysanother boom), but the multi-decade performance of miners is so poor at this point, and so much value has been destroyed, that expecting a rebound anywhere close to early-decade peaks strikes me as foolhardy. That said, Resource revenue and losses almost can't get worse at this point, if only because the declines have been so steep. CEO Doug Oberhelman argued that the business was a bottom, in part because it's almost impossible to go any lower, and in part because the replacement cycle seemingly has to turn at some point. But, again, it seems highly, highly unlikely that the next peak will look anything like the $22 billion in sales driven in 2012 – and a saturated aftermarket may mean the replacement cycle can last longer than CAT would think, or would like.
In the near term, O&G looks like a potential area of concern. Caterpillar only now is lapping the first real impact of the bust: sales of reciprocating engines ordered in the back half of 2014 still were being recognized in Q1 and, to a lesser extent, Q2 2015. Per the Q4 release, oil drilling and well servicing orders were down almost 90 percent in 2015, a sizeable headwind for 2016 revenue and one reason why CAT's full-year guidance is loaded somewhat toward the back half.
The problem now is that impacts are spreading, most notably to CAT's locomotive business. The downward revision of E&T sales guidance is driven by rail, per the Q4 call; operators have locomotives idled at the moment, and the oil bust seems likely to be a driver of that oversupply:

source: U.S. Energy Information Administration
Again, there's no reason to expect a return to 2013-2015 peaks. Operators are going bankrupt left and right; the aftermarket in recip, in particular, seems likely to be flooded soon (if it's not already).
So this is not a case of "well, Caterpillar is a cyclical business, and it will bounce back like it always does." The current and recent headwinds aren't cyclical; they are a reversion to the mean, a normalization of overinvestment in commodities driven by a variety of factors (Chinese demand, the Fed, and myriad others). So the problem isn't just that sales have declined for four straight years; the problem is that once the bottom is reached, the rebound seems likely to be more muted than one might expect from such a cyclical company. It will take years to return to the $65 billion in revenue seen in 2012, since 20-25% of those sales were in the mining space alone, and they're not coming back in full force. That doesn't even account for the oil and gas headwinds, which seem likely to linger for the next 2-3 years, at least, as U.S. shale and offshore explorers sort through the wreckage of bankruptcies and a likely abundance of aftermarket equipment (much of it perhaps considered "gently used"). Caterpillar will rebound, at some point – but the declines of the last four years are not going to reverse quickly.
The Rest Of The Business And Valuation
Outside of the commodity-impacted product lines, business certainly isn't great – but it's not that bad. Construction Industries revenue is down less than 10% cumulatively over the past two years, and that decline is driven largely by the weaker dollar. (Note that while currency lowers reported sales, it actually improves Caterpillar's earnings, given how much of its costs are expensed overseas. That doesn't include the beneficial impact of input costs as well. One could argue that the stronger dollar has had a massive indirect impact, by pulling down commodity prices and thus slashing end user demand, but from a purely financial standpoint the dollar has helped Caterpillar, not harmed it.) CI sales were down 19% in Q1, but the majority of the decline is coming from dealer inventory adjustments; demand is weak but not collapsing.
At $78, the problem I see is that a pretty solid rebound already is priced in. The stock already is trading at over 21x 2016 earnings guidance; and the company over the past few quarters has done a very poor job of projecting its own business, pulling down guidance last year and again after Q1. There are some modest green shoots here: the U.S. highway bill can help; China looks stronger, according to Oberhelman on the Q1 call; mining can't get much worse. But there's still more impact to come from O&G; the collapse in reciprocal engines won't be lapped until Q1, and now weak locomotive demand promises another headwind for the rest of the year.
The question is: what do earnings look like in the years after the bottom is reached? DeWalt said incremental margins traditionally were in the 25% range, but a series of restructuring actions have improved the fixed-cost structure to the point that figure should improve when the recovery comes.
But how big is that recovery really going to be? There's not going to be a snap-back in mining or O&G; Construction Industries certainly has room to improve but that business is barely one-third of overall revenue and E&T remains the key profit driver. 5% revenue growth off a 2016 bottom of $41 billion puts 2021 revenue at $52 billion (20% lower than the 2012 peak – again, that was a huge outlier). 30% incremental margins – against a past performance around 25%, thanks to recent restructuring – adds about $3.3 billion in incremental profit; using 2016's guided 25% tax rate, that's $2.5 billion or so in additional net income, or ~$4.50 per share assuming CAT continues to repurchase shares (and ignoring the impact of the borrowings required on interest expense). That puts 2021 EPS at about $7.70, given 2016 guidance for $3.20 less a $0.50 non-cash benefit from a change in pension accounting. (It's impossible, basically, to predict the pension impact on 2021 EPS, so we will assume it is zero.) CAT's earnings multiple generally has hovered around the 17-18x range over the past decade; an 18x multiple gets shares to $138. Discounted back at 10%, that means current fair value is $86. Using a more aggressive 8% rate, CAT shares are worth $94 – about 20% upside.
That is not a lot of upside for what seems like an awful amount of near-term risk (shares are just below a nine-month high), mid-term risk (there could be more declines coming) and long-term risk (the standard cyclical/macro reliance that's part and parcel of a CAT investment). It assumes the bottom is in within three quarters – which CAT management itself doesn't seem to believe as yet. It assumes likely double-digit growth in Construction Industries, and it doesn't apply a lower peak earnings multiple to a scenario that requires basically a twelve-year economic expansion in the U.S.
I've argued for a year now that fair value is in the $60-$65 range, and I still think that's the case, even discounting back a recovery that begins in the back half of 2017. If anything, Q1 probably puts me closer to the low end of that range; normalized EPS looks to be around $4.75 (assuming a 10% rebound – I remain unconvinced that E&T or Resource Industries revenues are that far off peak levels going forward) and should that come in 2019, a 10% discount rate puts fair value at the moment at $64. That assumes some help for Caterpillar as well from a macro environment that seems pretty shaky to me at the moment.
Nearer-term, there's a case that CAT will trade with its dividend, as lot of large-caps seem to have done in the ZIRP environment. It hardly seems a coincidence that support held at ~$62 in September and that January's brief dip below $60 led to a sharp reversal in the shares, given that CAT's yield clears 5% at $61.60.
On the other hand, the yield drops below 4% at $77, and it's not difficult to imagine some profit-taking at current levels after an earnings report that – at best – means investors need to be more patient. I'm not arguing that CAT will retest the low $60s – though another bout of broad market panic could push the stock down quickly – but, were I a more aggressive trader, I might look to get on the short side going forward.
Longer-term, I don't think Caterpillar is doomed; it's a great company, and it has been through tough times before. But price matters too, and at $78 it still looks like the market is assuming a pretty solid rebound when the bottom comes. Given that the bottom isn't here yet, and given that there's more going on here than mere cyclicality, the recent gains still feel premature.