Summary
For the March quarter, Microsoft reported GAAP declines of 6% y/y in revenue, and 20% y/y in operating income.
Microsoft isn't growing.
The lack of growth is due to intense competition from the Android and iOS ecosystems.
Microsoft (NASDAQ:MSFT) reported March quarter earnings this past Thursday. The stock fell 7% the following day. This has been passed off as mere noise, but could be the start of investors resetting expectations for the company. It's becoming increasingly clear that Windows cannot be restored to the position of dominance it enjoyed 20 years ago. Microsoft will have to operate in a much more competitive world of Windows, Android, and iOS. Microsoft's valuation will suffer as a result.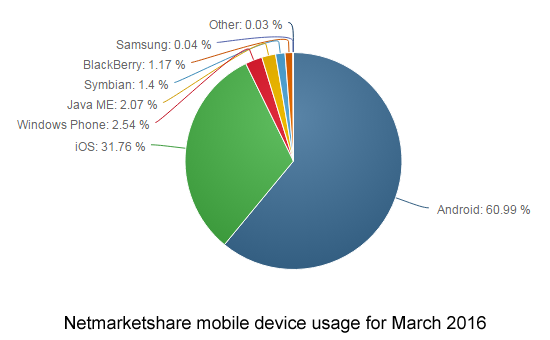 Source: netmarketshare.com
The Tripartite World
This isn't a "Death of Windows" article. I feel the need to issue that disclaimer, since when I write negative things about Microsoft, all too often it's passed off as the rantings of an Apple (NASDAQ:AAPL) fan boy. Everyone knows, or can see from the disclaimer, that I'm long Apple.
In fact, Apple is only part of the problem, and not the biggest part. In its excellent Surface Pro and Surface Book devices, Microsoft is doing some things right that Apple isn't. But Alphabet's (NASDAQ:GOOG) (NASDAQ:GOOGL) Google has usurped the commodity PC model and made it work for the "mobile first, cloud first world" with Android.
As I've pointed out, there are now multiple indications that Google is working to make Android the next PC platform, not the least of which is the newwindowing capability present in the Android N preview. Apple also seems to bepositioning iOS as a "PC replacement", with higher performance iPad Pro tablets featuring split window multi-tasking.
In competing with Android and iOS, Windows is disadvantaged in three important ways:
Android and iOS are modern mobile platforms. They already have vibrant app ecosystems and are present in the majority of smartphones used worldwide.
Google's advertising and search business model allows Android to be distributed for free. iOS is included in Apple mobile device purchases, and updates are free. Microsoft's free Windows 10 upgrade is a response to the free OS model, but Microsoft lacks equivalent revenue streams to compensate.
Android is primarily based on processors using designs and architecture licensed from ARM Holdings (NASDAQ:ARMH). iOS devices use ARM architecture processors exclusively. Windows is primarily Intel (NASDAQ:INTC) based. This gives ARM based device makers a cost advantage compared to devices based on Intel, if the Intel devices are not subsidized with "contra revenue".
The disadvantages with respect to Android and iOS have been the key factors in the failure of Microsoft's phone strategy. The Lumia sales implosion continues, with revenue declining y/y by 47% on sales of just 2.3 million Lumias in the March quarter.
Inextricably Linked
Until recently, Microsoft investors have been inclined to overlook the fiasco that was the Nokia purchase. This view is no longer tenable. The lack of presence in smartphones has an impact in other key business areas, such as Windows and cloud services.
With Windows 10, CEO Nadella has set about trying to convert the Windows ecosystem into a modern platform along the lines of the mobile platforms of iOS and Android. This was, of course, the right strategy, but it's hampered by the lack of smartphone presence.
Nadella was able to report some progress in the Win10 user base, going from 200 million in January to the current 270 million. Of that 70 million delta, about 56 million were new PCs reported to have shipped in the quarter (usingIDC's numbers). So, most of the new Win10 users are coming from new PC sales rather than system upgrades, and according to Netmarketshare, over half of Windows users run Win7.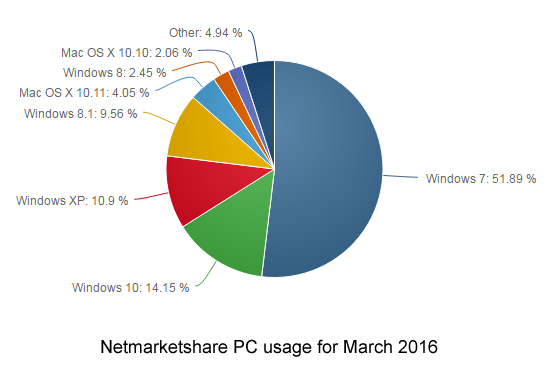 I continue to question whether Microsoft will reach its goal of 1 billion Windows 10 users before it is time for the next OS version. Microsoft is already almost a year into what is normally a 2-3 year cycle for OS versions.
The pressure on Windows revenue is evident in the relatively flat (1% y/y) revenue for the More Personal Computing segment. Operating income was up 57% on the strength of the cutbacks in the smartphone business. Although the cutbacks look good on paper, I'm still left wondering what the new strategy on smartphones is.
Cloud services has been a bright spot for Microsoft, but once again, growth in cloud services is inextricably linked to mobile devices, and here lack of smartphone presence also hurts. While revenue was up 3% y/y, operating income declined 14% y/y. This was due to operating cost investments Microsoft is making, but these were necessitated by ongoing competitive pressure, not only from Google, but Amazon (NASDAQ:AMZN).
Lack of its own smartphone ecosystem has forced Microsoft to cast a wider net, providing services for iOS and Android devices. Being platform agnostic sounds good, but it gives the owners of the competing platforms the opportunity to differentiate themselves. Apple doesn't offer much in the way of commercial cloud services, but has been expanding what it offered to iOS developers. I expect that expansion to continue with WWDC 2016 in June.
Once again, in cloud services, Microsoft is faced with a tripartite competition with Google and Amazon, which may even get worse if Apple enters the fray. So cloud services offers little refuge for Microsoft going forward.
Investor Takeaway
On a GAAP basis, revenue was down y/y 6% to $20.5 million, and operating income was down 20% to $5.3 million. Even if one accepts the logic of adding in deferred revenue, the y/y growth was only 2%, and operating income growth was only 1%. This relative stagnation reflects the tripartite competitive landscape for Microsoft going forward.
This might have been different if Microsoft had succeeded in establishing Windows Phone as a competitive ecosystem, but now that that battle has been lost, it's hard to see how Microsoft ever makes up the deficit.
Microsoft's current TTM P/E ratio of 36.99 probably reflects an unrealistic expectation on the part of investors that Microsoft will return to the glory days of Windows dominance. The likelihood of that has become vanishingly small.
Microsoft can compete, and will compete effectively, but it will do so in a tripartite world where it doesn't have the upper hand. The realization of that is just beginning to set in, so I expect the market to continually lower its expectations. I now rate the stock a sell.