Summary
Four red flags include: (1) deteriorating international contribution, (2) increase in international average revenue per member will slow growth, (3) cash burn is accelerating and (4) increased stock-based compensation.
In our view, the recent sell-off is in the early stages and the red flags indicate that Netflix's current valuation is unsustainable.
Our 12-month PT for NFLX is $65-$70, implying downside risk of 27%-32%.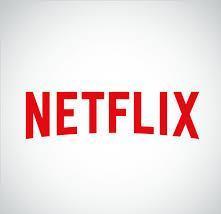 NFLX Declines 14% in Past Week And Sell-Off May Be In Early Stages
Netflix (NASDAQ:NFLX) declined sharply following its Q1 earnings release last Monday and the stock is now down 14% over the past week. We expect the sell-off to continue throughout 2016 for several reasons and we maintain our one-year PT of $65-$70. Part I of our short thesis can be found here and Part II can be found here.
After reviewing the Form 10-Q that was filed on Wednesday, we found four red flags that indicate our short thesis remains intact and suggest the sell-off is in the early stages. These red flags include: (1) deteriorating international contribution loss, (2) international ARPU may begin to trend lower as pricing power appears to be overstated, (3) cash burn is accelerating and (4) stock-based compensation is on the rise.
Combined, these warning signs suggest Netflix likely reached a peak valuation in Q4 2015 when the stock traded as high as $133.27 per share and at a market capitalization of $57.1 billion. While Netflix remains the market leader and has vast opportunities in international expansion, we do not expect to see the valuation reach such an irrational and unsustainable level and we believe investors will appraise the company based on its reduced, moderate overall growth rate and more mature business model in a highly competitive market. In our view, with the stock currently trading at $95.90 per share or 340X projected 2016 EPS, there is 27%-32% downside risk for shareholders.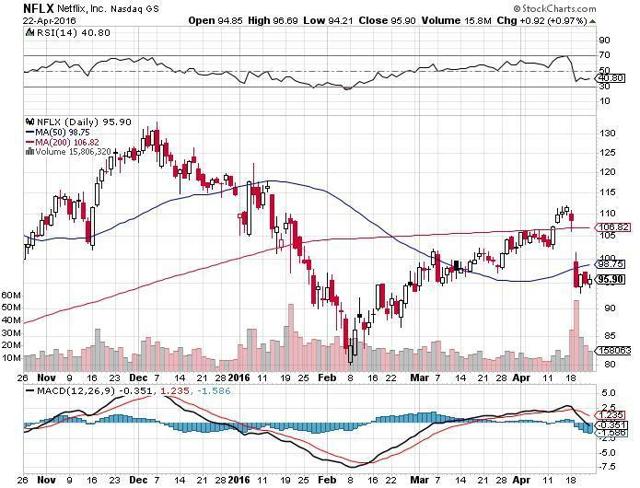 Source: Stockcharts.com
Red Flag #1: International Contribution Loss
In Q1 2016, Netflix reported an operating loss of $104.2 million compared to an operating loss of $65.0 million in the same period last year for its international business segment. While the company grew international streaming revenue at an impressive 56.9% for the quarter, cost of revenue soared at 67.8%. As a result, operating losses expanded to unprecedented levels despite management's efforts to lower operating expenses in the quarter. If management did not drastically scale back marketing and advertising spend in the quarter, the operating loss would have been even worse and likely would have approached -$125 million. We warned our readers about the trouble ahead for investors as management expands too rapidly into international markets on a large scale:
With management launching in 130 countries on January 6th, we believe expectations are far too high and only a small portion of these countries represent attractive long-term markets for Netflix. For the most part, the economics of the various international markets will be vastly different than the economics Netflix has enjoyed in the US. As a result, we believe there will be significantly lower market penetration internationally and Netflix will experience sustained operating losses in excess of $120 million. We believe the overly ambitious expansion plans will drive operating losses in excess of $150 million per quarter by 2017.
We stand by this prediction of operating losses of $150 million per quarter by 2017. And the Q1 2016 results suggests the company is on pace to hit this number perhaps even by the end of 2016. The cost of creating original and relevant content in the language of a local market is expensive and success is far from guaranteed for a new entrant. Additionally, Netflix must invest in the development of payments systems and comply with numerous local regulations in each of the markets it has entered this year. These factors represent significant challenges to management in building a sustainable business model in its international streaming business. While membership and revenue growth will continue to impress, we expect international operating losses to worsen over time and continue to weigh down overall earnings for Netflix.
Red Flag #2: Price Increases Internationally Beginning in Q4 2016 Will Likely Slow Net Membership Growth
Internationally, average monthly revenue per member declined 5% in Q1 2016 to $7.31 from $7.68 in the same period last year. However, the decline was a result of exchange rate fluctuations and management anticipates that the average monthly revenue per member will increase by 10% to 20% beginning in Q4 2016. We believe a higher global price point will slow net additions in members to a greater extent than management expects.

Source: Netflix 10-Q filing, April 20, 2016
After increasing memberships by 4.51 million in Q1 2016, Netflix is on pace to add over 13 million international members in 2016. However, we believe the higher pricing will slow this growth rate in 2017 as consumers opt for alternatives whether it is Amazon (NASDAQ:AMZN) Prime or Hulu as well as other entertainment options. We expect international consumers' loyalty to Netflix will be tested and particularly in less affluent markets, we may see an uptick in cancellations beginning in Q1 2017. The robust international growth to date has been a driving force behind the stock's premium valuation and a pullback in net additions in 2017 would likely lead to a considerable price correction.

Source: Author's estimates
Red Flag #3: Cash Burn Is Accelerating
Netflix continues to burn cash and in Q1 2016, the company's cash flow from operations was -$228.6 million as the company continues to spend heavily in investments for streaming content. The cash burn on a quarterly basis has increased at an alarming rate. In Q1 2015, Netflix burned -$127.4 million in cash to support operations. We expect in Q2 2016 that the company will burn close to -$250 million. Much of the cash used is to build up its leading content library and to maintain its competitive edge as the 'king of content'.
However, Netflix has considerable further streaming content obligations and as of the end of Q1 2016, there was $12.3 billion in obligations with $5.1 billion due in less than a year. The spend on content will only increase over time and for international content, Netflix can be expected to deliver a number of hits as well as failures in its original content. To fund this content strategy, we believe the company will have to issue debt in 2017 particularly as losses in the international segment mount. The highly profitable US streaming business will help to an extent but will not be able to meet the cash needs of the current growth strategy.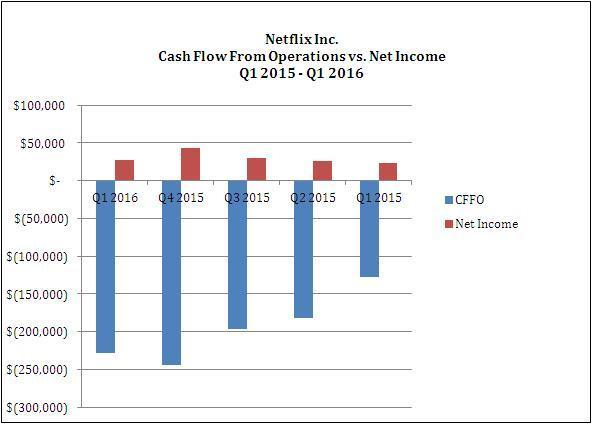 Source: Netflix 10-Q Filing, April 20, 2016
Red Flag #4: Stock-Based Compensation is on the Rise
Stock-based compensation increased to $42.4 million in Q1 2016 from $27.4 million in Q1 2015 and the company granted over 835k stock options in the quarter. While these numbers do not seem out of the ordinary, total diluted shares outstanding continue to grow and now total 438.0 million compared to 433.8 million in Q1 2015. Furthermore, if stock-based compensation expense is removed from operating cash flow, Netflix burned over $260 million in the first quarter of 2016.
This is an item that shareholders should continue to focus on each quarter, as it will make a difference over time in determining whether management meets EPS projections. We are currently projecting EPS of $0.19 per share in 2016 and expect EPS to grow over the next five years to $1.03 per share for a 39.8% CAGR. This would be an impressive performance for nearly any company yet based on Netflix's current market price, this performance would fall short of justifying the valuation. A lucrative stock option plan for management will provide another headwind for Netflix shareholders.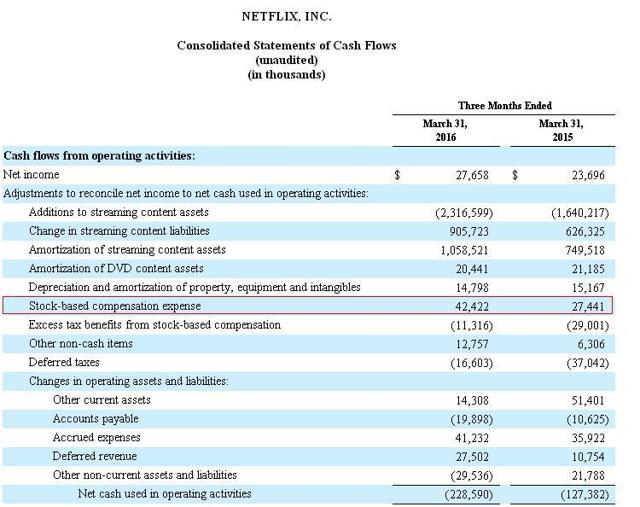 Source: Netflix 10-Q Filing, April 20, 2016
Takeaway
In conclusion, we are projecting EPS of $0.19 in 2016 and $0.52 in 2017. At a current price of $95.90 per share, NFLX trades at over 500X projected 2016 EPS and 180X projected 2017 EPS. Given the warning signs noted and the intense competition, particularly from Amazon, we believe there is considerable downside risk for shareholders. In our view, the current price is overvalued by between 27% and 32% and we have a twelve-month PT of $65-$70 per share.